Over 45's Tournament 2019
The competition was held on Sunday, 11th August 2019 with 16 pairs playing on the front four courts of the Club. About a third of the players were from other clubs, with one pair coming from Cheddar TC. The weather was a difficult mix of sunny spells and very heavy showers.
The morning round robins went fairly well to plan but the afternoon was much more difficult, with heavy showers happening more and more frequently as the time wore on. The finals were actually played in a thunderstorm (with a double rainbow appearing immediately after them!). Di and Shane Horsell won the Main Final when Ro Lyon and Steve Lamble conceded having had their serve broken and were 3-1 down.
At the same time, in the Plate Final, Mary and Rod Elliott beat Julie and Mike Taylor 10-6 in a championship tiebreak which they agreed to play at 2-2. The weather made the finals virtually unplayable and the players should be commended for their fortitude!
I would like to thank all the players who made the best of a difficult situation and Judith Potter for dealing with all the catering matters.
Over 45's Tournament 2018
The 6th Open Over 45s Mixed Doubles Tournament took place on Sunday 19th August.  Only 16 pairs entered this year (down from 27 in 2017),  Despite that, a good day of tennis ensued, with all matches being played on the front 4 courts.  As usual there were round robins in the morning, starting at 09:30, and the fact that there were four pairs to each court meant that the matches finished at a similar time, between 12:30 and 13:00, when lunch was taken.  The reduced, even number allowed for a relatively straightforward transition into the afternoon Main and Plate round robins.
There followed the semi-finals of each strand, with the finals of both Main and Plate ending at about 18:30.  Jo Adams and Shane Horsell beat Angie Baldock and Andy Dickinson 6-3 in the Main final and Di Horsell and Steve Lamble beat Sara Lewis and Neil Martin 6-4 in the Plate final.  It was good to note that nearly 40% of the players came from other clubs, making the event a genuinely open one.  Thanks to all of the players who stayed on to see two engrossing finals.  Finally, I would also like to thank Judith, Ben and Kate Potter (and Isabelle) for their help in making it a relatively smooth day.
Over 45's tournament 2017
Over 45s Open Mixed Doubles
The 5th Over 45s event was held on Sunday, 13th August in lovely weather and proved to be even more popular this year with 27 couples trying to get their names on the trophies. As with previous years, lessons are learnt that can be applied the following year to improve the day for everyone.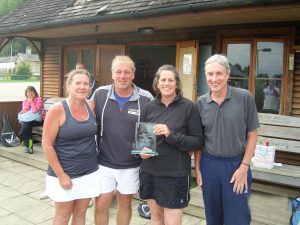 After morning and afternoon round robins and semi-finals, Tina Wall and Shane Horsell beat Katie Ballard and Paul Harris in the final of the main competition, with Louse Horner-Baggs and Jonathan Vickers making it a clean sweep for CTC by beating Val and Graham Parenfus in the plate final.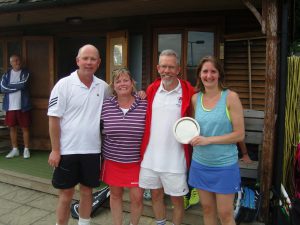 It was pleasing to note that fifteen other clubs were represented on the day. It is possible that we could reach our maximum entries of 28 pairs for the seven courts and, who knows, there might a waiting list in the future!
Big thanks must go to Judith, Ben and Kate Potter for their hard work on the day, and before, dealing with the catering and administration, enabling the day to run as smoothly as possible.
For further information email adrian@potters.me.uk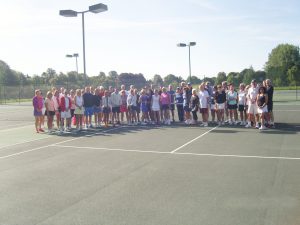 ---
Over 45's tournament 2016
Another successful Over 45's Tournament was held on Sunday, 21st August. It was the fourth such annual event to be arranged and the number of players has increased year on year.
It was good to be joined by members of local clubs but players also came from further afield, such as from London, Bristol and Winchester, adding to the special nature of this event.
The Main tournament was won by Jo Adams and Bob Pimble who beat Liz Hegarty and Adrian Somerfield 6-3.  Jane Green and Alan Hunt beat Allison and Graham Stock 6-0 to win the Plate competition.  Despite the poor weather, both finals were watched by a hardy group of players who had stayed on.
The Tournament continues to evolve and everyone agreed that it was a very enjoyable event, with plenty of tennis for all.
Thanks go to Kate Henwood and Judith, Kate and Ben Potter for organising the refreshments and administration on the day.
---
Over 45's tournament 2015
The Main tournament was won by Ange Baldock and Steve Archer who beat Katie Ballard and Paul Harris.  Anne and Paul Ashcroft beat Rachel Snowball and George Brooks to win the Plate competition.

Click on the image to see it in more detail…
2017 News and Events
Delta Tournament – Saturday March 25th 2017
Another super evening of tennis at the Delta on Saturday 25 March. We were a little down on numbers but it all worked with everyone getting some great tennis. In fact Katie Ballard and Jono Mellowes came straight from an A team (Sunday? League) match – Katie just managing to shower and put on a change of tennis gear (didn't ask Jono!) and one of the last matches was 7-5 7-5 so a great effort by them. But it begs the question, where were the other two? In the Red group women 3rd equal were Katie and Rose Peck, 2nd Kirstin Bulger (not bad for first time) and the winner by 2 points was Anna (also not bad after several months of not playing. In the men's 3rd equal were Ian Sagan and Darren Ash, 2nd was Jonathan Vickers and first was Shane Horsell – but closely fought as there were only 3 points between 1st and 3rd. In the Blue group 3rd equal were Di Horsell and Midge Wellfair, 2nd Rowena Wakefield (valiant effort as she came from her sickbed!) but a runaway winner was Lou Horner-Baggs with a whopping 24 points. In the men's 3rd equal were Ian Lunn and Phil Southwell, 2nd was George Brooks and first by a fairly huge margin and the highest Delta score I've ever seen, with 27 points was Jono.
Great evening and thanks to all whom came. Thanks also for my bottle of wine Adrian – gone already!
---
Delta Tournament – Saturday 19th November
The evening started well as we were able to watch the last 10 minutes of Andy Murray's semi-final in the ATP world tour finals. It put us in the mood. There were two groups as per normal but this time they were more randomly chosen and on the whole it worked very well.
Our winners were:
Red Group Men – 2nd equal with 21 points Paul Wheeler and Paul Hargreaves
1st – with a runaway 26 points Joe Sach
Ladies – 2nd equal with 22 points Midge Wellfair and Nicola Bailey
1st – with 23 points Rowena Wakefiled
Blue Group Men – 3rd – Graham Wellfair (20 points)
Joint 1st – George Brooks and Paul Harris (with Paul winning the bottle of Prosecco as he had fewer games against him) (21 points each)
Ladies – 3rd – ME! with 19 points
2nd – Jane Muncer (21)
1st – Rachel Snowball – a whopping 24 points
Hope everyone enjoyed it. Helpful(!) feedback on any of the year's tournaments welcome. Zena
---