Dates for your diaries 2019
March 30th – Delta Tournament
April 14th (reserve 21st April) – Men's and Ladies' singles
Normal Club Morning 10-12
May 12th (reserve 19th) – Men's and Ladies' doubles
May 18th – Open Day 11.00 – 2.00 – To attract new members. Book your sessions here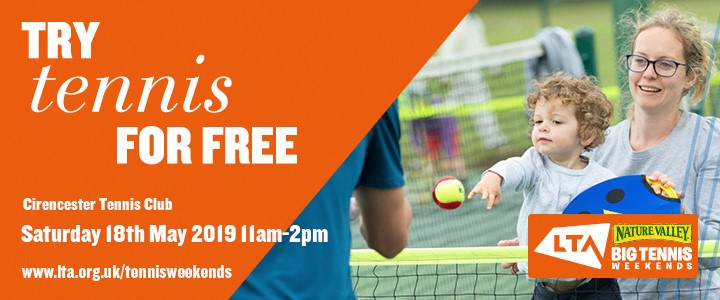 May 18th – Lawn Party 6.30 ->

May 19th – Golf Day

June 1st – Road to Wimbledon
June 23rd – Cirencester Junior Club Championship
June 30th (reserve 6th July) – Mira's lucky dip
Normal Club Morning 10-12, BBQ 12-12.45, Mira Mixed Doubles, Sliding Handicap Tournament 12.45 start – approx 3pm. Enquiries to tournaments@cirentennis.net
July 11th – Seniors Tournament 9.30-12.00
August 31st – Junior Mira Tournament
September 22nd (reserve 29th) – Mixed doubles
To enter any tournament other than the over 45's email tournaments@cirentennis.net
To enter the over 45's email adrian@potters.me.uk
---
Mixed Doubles Tournament – Sept 2018
I was going to start by saying what a wonderful end of year/season tournament this was but then for one person it was a disaster – poor Julie Taylor tore a ligament and was not only in agony but will also be facing a couple of weeks on crutches and several more of rehabilitation.  Tennis can sometimes be cruel and we are very sorry Julie.  So, having said that, for the rest of us it was a super day's tennis.  It was really lovely to welcome new tournament players – Lindsay and Etty, Jon & Jayne Hughes, Jackie Tarleton and also wonderful to have so many family members playing – 3 Horsells, 2 Snowballs, 2 Gells, Ro & Paul and Wendy and David (huge thanks also for stepping into the shoes of Julie and Paul Hargreaves and saving the perfectly calibrated 16 couples).
The runners-up of the Plate were Jayne & Jon The winners were Ann & Christophe
The runners-up of the Main were Di & Shane The winners were Rachel & Oscar
Additional thanks to Lindsay and Mary for delicious salads and cakes.  There was a banana cake competition and I came runner-up!
---
Judy Murray Visit – April 21st 2018
What an incredible day with 50 adults and 25 juniors taking part and plenty more watching, drinking tea and eating cake!
Despite being 45 mins late (taking the wrong turning on the M4 and heading for Wales!) Judy arrived ready to go straight into a Q&A session. She was relaxed, interesting and entertaining, telling plenty of amusing anecdotes involving Andy and Jamie.
She then organised a range of fun and interesting drills some of which required intense concentration. Each session ended with the unlucky few getting drenched from water balloons.
We raised a fantastic £2300 for UNICEF from the clinics, refreshments, raffle and lucky dip. Also a generous donation from ADS Tennis as Adam donated all money from drills for Saturday.
The Club is very grateful to Martin Leay for his generosity and for enabling us all to have an unforgettable day.
Thank you also to everyone who supported the great event by taking part or helping!
---
Roll Ups Tournament – July 2018

No drugs allegations. No racquet violations. No overlong breaks between serves. No swearing at the umpire. No tantrums. No illegal coaching. No Hawk-eye. No disputed line calls (not many, at least).
So the event, organised by Roger, ought to have been rather boring. But it wasn't. On a cool morning that turned much warmer later, sixteen veteran players (ten men and six women), partners determined by a complex computer program (thanks, Graham), played their way through four hard-fought sets lasting 20 minutes each.  Judith and Mary kept the score and blew the whistle with great gusto. Right up till the end of the final set it was hard to predict who would win, but in the end two clear winners emerged, Rosemary and Tony, the latter just pipping Ray to the bottle of fizz he'd kindly donated, along with the balls.
It wasn't just the tennis that brought out the best in everyone, but the challenge to bring food to share. Here everyone was a winner, everyone sitting talking happily in the sun to round off a delightful morning.
If you missed it, keep an eye open for the Christmas event Judith and Wendy are already planning.
---
Over 45's Mixed Open Tournament – 13th August
Click to see separate webpage for more information.
---
Mira's tournament – June 24th 2018
Probably the hottest tournament in the history of CTC tournaments, touching 30° at one point.  However, not a single grumpy remark about it being too hot.  In spite of the fact that the tournament started at the same time as England's football world cup game against Panama (and it was very exciting as they seemed to score 2 goals during each 20 minute round), there was a good turnout and we filled 5 courts.
Mike and Wynne were joint first counting games won but Mike just pipped Wynne to the top spot when games against came into play.  More fizz for the Taylor household.
With 10 entrants for the Women there were only 4 points between first and last which was fantastic however the clear winner was Amanda (who gets her name on the board about 25 years after the first time), followed a point behind by Jane Beaumont.
I even got to play a session and a half myself as Jane M's knee gave her gyp and luckily we have the same shoe size – rather liked her racket too.  Zena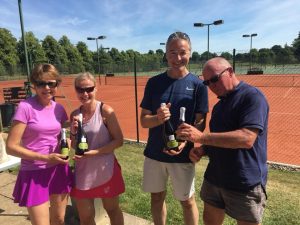 ---
Men's and Ladies Doubles – May 13th 2018
Inspired by Judy Murray's recent visit, there was a good turnout for these two tournaments run concurrently with a great BBQ in the middle and loads of sunshine (I just have it on tap).  We played a round robin format in the morning and then knock-out main and plate competition in the afternoon.
Zac & Johno only just beat Ian & Shane 7-5 in a thrilling final and in the plate Paul & Joe had a similarly fierce final beating Jeremy & Chris 8-6.
In the ladies Ange & Jo fairly whopped Rachel & I beating us 6-0!  But it was hugely enjoyable and the nearest I've got to getting my name on the board.
---
Men's and Ladies Singles – April 22nd 2018
We had a good turn out for the Men's competition with 14 players.  It somehow always manages to be sunny on tournament days.  With a semi-final made of all our coaching staff, Adam, Zac, Jono and Oscar, Zac was the winner beating Adam in the final.  The plate was won by Christophe Landure who played a storming final against Johno Gell.
The ladies' tournament was not well subscribed and consisted only of a final!  But we made them play 2 sets and Julia Jamieson-Black won 6-1,6-3 against Rowena Wakefield who put in a great post baby performance.
---
---
Cirencester Tennis Club Mixed Singles League
The club offers a mixed singles tennis league; if you would like to take part in this league email: daveaclarke@sky.com
See webpage for more info:
https://cirentennis.net/competitive-tennis/mixed-singles-league/
The league is currently 4 divisions with 5 people in most divisions, so just involves a commitment of two matches a month: for two months.
---
Visit Our Facebook Page