Dates for your diaries 2021
Men's/Women's Singles Tournament – Sunday 18th April
Men's /Women's Doubles Tournament – Sunday 9th May
Mira's Lucky Dip – Sunday 27th June
Roll Up Tournament – Thursday 15th July
Mixed Doubles Tournament – Sunday 19th September
Delta and possible adult/junior tournament still to be decided
---
Roll-Ups tournament 2021
With superb weather it was good to be able to re-introduce our annual tournament and a very sporting and competitive event was enjoyed by 16 members playing 5 sets of 20 minutes
A magic template provided by Graham and controlled by Judith and Ray ensured fair play and some very close matches
The clear ladies winner was Jane Marshall, a relatively new member, Carol Bailey coming second and a tie for third place between Maria Walker and Nicky Whittet
The mens was a much closer event with Graham Wellfair winning by 1 point from Jack Fillingham and Malcolm Swait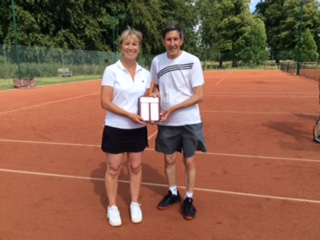 Everyone brought their own refreshments and some time was spent remembering Roger Sweeting, a member for many years, who passed away recently
It was agreed that we would provide an engraved plate, named after Roger, to be played for in subsequent years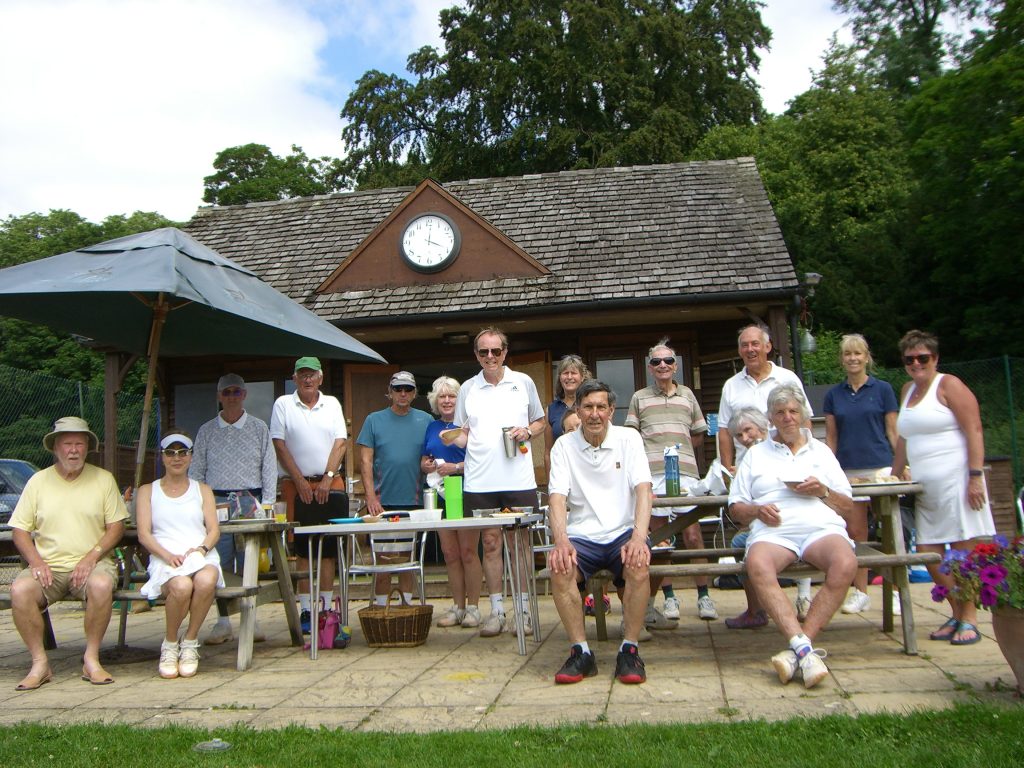 ---
Mixed Doubles Tournament October 2019
After having to cancel the tournament on the original date due to rain it was a great relief that we could go ahead on the rearranged date of 6th October.
Twelve pairs entered and so we had two groups of six pairs playing round robin throughout the morning. A special thank you to Charlie Bamber who played despite his numerous injuries so as not to let us down. The afternoon was a knockout with semi finals and finals for the main cup and the plate.
The cup was won by Zach and Lindsay, runners up were Ash and Ange.
The plate was won by Ro and Jeremy, runners up were Etty and Jonno.
Lots of good fun, competitive tennis was played and we even had some sunshine!
---
Roll Ups Tournament July 2019
Was Judith downhearted when Andy found another doubles partner for Wimbledon – even though he was afraid her serve wasn't up to Judith's? Did she sulk? No, she turned her attention to the annual Roll-Up tournament. She joined a worthy team: Roger, who co-ordinated everything, Graham, who provided a computer program to get everyone into some sort of order on the courts, and Ray, who donated the balls and the prizes. Just as important were Wendy, who ran to earth the cricketer blocking the Portaloo man's access, and a kind visitor who showed that the Transatlantic Alliance is trump-proof by being a meticulous organiser: particular thanks, Marilyn.
Play was interrupted only by updates about the England-Australia ODI. No one had a hang-over inspired tantrum; no one was penalised for racquet violations; no one swore at the match officials. We opted not to have a press conference for the victors afterwards, preferring to tuck into the lovely lunch all our members had contributed to. The photos will show the collective good mood.
We'll do it all again next year, when Ray might win one of his own prizes. But this year he graciously presented them to Malcolm and Rosemary. Well done to our winners, and congratulations to them and everyone else for a lovely sporting occasion.
---
Mira's Lucky Dip Tournament – 30th June 2019
After an extremely hot day the day before, Sunday 30th June was mercifully a much more pleasant temperature for the annual Mira Tournament, and 18 members had a very enjoyable morning of Mixed Doubles. A "lucky dip" on arrival allocated places in the pre-determined grid, developed such that no-one played with the same partner twice, and matches were played on a "sliding handicap" basis, which resulted in some extremely close scores. The overall Ladies and Mens winner were respectively Rowena Wakefield and Paul O'Reilly, with Ro Lyon and Andrew Lazenby runners-up by just 2 points and 1 point respectively.
---
Men's and Women's Doubles Tournaments – 12th May 2019
It was a beautiful sunny day for the men's and women's doubles. We had 8 pairs of men and some great tennis played. Zach & Martin were the winners with Steve and Joe as runners up. The plate was won by Jeremy & Chris and the runners up were David & Wynne.
The women's numbers were down on last year due to holidays and injuries with only five pairs entered. This meant there was no plate played, just the main event. The winners were Katie & Julia with runners up Rowena & Maggie.
All in all with the sunshine, much chatter, great tennis and Lindsay's delicious lemon drizzle, it was a very enjoyable day!
---
Singles Tournaments – 14th April 2019
The men's singles tournament started with eight players and lots of enthusiasm. Unfortunately Adam had to pull out after his first match due to injury. There were some good matches played culminating in a very close and tense final between Oscar and Jono Mellowes. Oscar was the winner.
We only had two women enter so it was straight to a final between Rowena Wakefield and Stephanie Emerson. Rowena was the winner.
---
Delta Tournament – 30th March 2019
This tournament wasn't held last year so we decided to reinstate it depending on if there was enough interest. We were delighted that we had 28 players. It was ran as it had been in the past with a handicapped scoring system and playing with a different partner each round. We had seven rounds of 25 minutes so plenty of tennis played! As always with this type of scoring the results were very close indeed. The winners were:
Men – joint 1st with 24 points – Adam, Shane and Jonathan Vickers
Women – 1st with 24 points – Paula
Joint 2nd with 23 points – Jan and Di
Everyone seemed to really enjoy it (I had lots of lovely messages) and great fun was had by all. We hope to repeat it in November!
---
Mixed Doubles Tournament – Sept 2018
I was going to start by saying what a wonderful end of year/season tournament this was but then for one person it was a disaster – poor Julie Taylor tore a ligament and was not only in agony but will also be facing a couple of weeks on crutches and several more of rehabilitation.  Tennis can sometimes be cruel and we are very sorry Julie.  So, having said that, for the rest of us it was a super day's tennis.  It was really lovely to welcome new tournament players – Lindsay and Etty, Jon & Jayne Hughes, Jackie Tarleton and also wonderful to have so many family members playing – 3 Horsells, 2 Snowballs, 2 Gells, Ro & Paul and Wendy and David (huge thanks also for stepping into the shoes of Julie and Paul Hargreaves and saving the perfectly calibrated 16 couples).
The runners-up of the Plate were Jayne & Jon The winners were Ann & Christophe
The runners-up of the Main were Di & Shane The winners were Rachel & Oscar
Additional thanks to Lindsay and Mary for delicious salads and cakes.  There was a banana cake competition and I came runner-up!
---
Judy Murray Visit – April 21st 2018
What an incredible day with 50 adults and 25 juniors taking part and plenty more watching, drinking tea and eating cake!
Despite being 45 mins late (taking the wrong turning on the M4 and heading for Wales!) Judy arrived ready to go straight into a Q&A session. She was relaxed, interesting and entertaining, telling plenty of amusing anecdotes involving Andy and Jamie.
She then organised a range of fun and interesting drills some of which required intense concentration. Each session ended with the unlucky few getting drenched from water balloons.
We raised a fantastic £2300 for UNICEF from the clinics, refreshments, raffle and lucky dip. Also a generous donation from ADS Tennis as Adam donated all money from drills for Saturday.
The Club is very grateful to Martin Leay for his generosity and for enabling us all to have an unforgettable day.
Thank you also to everyone who supported the great event by taking part or helping!
---
---
Over 45's Mixed Open Tournament – 13th August
Click to see separate webpage for more information.
---
Mira's tournament – June 24th 2018
Probably the hottest tournament in the history of CTC tournaments, touching 30° at one point.  However, not a single grumpy remark about it being too hot.  In spite of the fact that the tournament started at the same time as England's football world cup game against Panama (and it was very exciting as they seemed to score 2 goals during each 20 minute round), there was a good turnout and we filled 5 courts.
Mike and Wynne were joint first counting games won but Mike just pipped Wynne to the top spot when games against came into play.  More fizz for the Taylor household.
With 10 entrants for the Women there were only 4 points between first and last which was fantastic however the clear winner was Amanda (who gets her name on the board about 25 years after the first time), followed a point behind by Jane Beaumont.
I even got to play a session and a half myself as Jane M's knee gave her gyp and luckily we have the same shoe size – rather liked her racket too.  Zena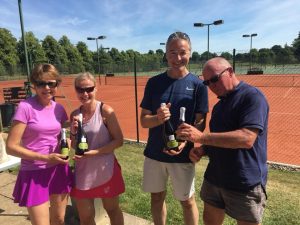 ---
Men's and Ladies Doubles – May 13th 2018
Inspired by Judy Murray's recent visit, there was a good turnout for these two tournaments run concurrently with a great BBQ in the middle and loads of sunshine (I just have it on tap).  We played a round robin format in the morning and then knock-out main and plate competition in the afternoon.
Zac & Johno only just beat Ian & Shane 7-5 in a thrilling final and in the plate Paul & Joe had a similarly fierce final beating Jeremy & Chris 8-6.
In the ladies Ange & Jo fairly whopped Rachel & I beating us 6-0!  But it was hugely enjoyable and the nearest I've got to getting my name on the board.
---
Men's and Ladies Singles – April 22nd 2018
We had a good turn out for the Men's competition with 14 players.  It somehow always manages to be sunny on tournament days.  With a semi-final made of all our coaching staff, Adam, Zac, Jono and Oscar, Zac was the winner beating Adam in the final.  The plate was won by Christophe Landure who played a storming final against Johno Gell.
The ladies' tournament was not well subscribed and consisted only of a final!  But we made them play 2 sets and Julia Jamieson-Black won 6-1,6-3 against Rowena Wakefield who put in a great post baby performance.
---
Cirencester Tennis Club Mixed Singles League
The club offers a mixed singles tennis league; if you would like to take part in this league email: daveaclarke@sky.com
See webpage for more info:
https://cirentennis.net/competitive-tennis/mixed-singles-league/
The league is currently 4 divisions with 5 people in most divisions, so just involves a commitment of two matches a month: for two months.
---
Visit Our Facebook Page