History Timeline 1925-2021
Thank you to everyone who contributed to the following history of our club. If anyone has any additional information or images then  please email Rachel Snowball: rachsnowball@yahoo.co.uk
Key date
Event
Source
Early evidence of Cirencester Park tennis
July 1884
The Cirencester Park Lawn Tennis club held its 3 day from Tuesday 29th July.

'Favoured with fine weather for three consecutive days in a month which has been unpleasantly moist, the Tournament has been unwontedly fortunate, and the consequence is that the attendance throughout has been large and fashionable, including the principal families of a wide district in the counties of Gloucester and Wilts.'

Wilts and Glos Standard

02/08/1884

July 1886
The Cirencester Park Lawn Tennis club held its 3 day from Wednesday 21st-23rd July. Afterwards ball was held at the Corn Hall.

'Late in the afternoon play was interrupted by a deluging storm of rain, which soddened the ground and caused much inconvenience. The early hours of Thursday were bright, but a strong wind rendered play difficult and unpleasant, and a rain-storm supervening so hindered play that no event was completed.

Glouc. Citizen

24/07/1886

Aug 1889
The Cirencester Park Lawn Tennis club held its 3 day tournament. Afterwards ball was held at the Corn Hall.Evidence of courts been set up on cricket ground.

'The admirably kept ground of the Cirencester Cricket Club as usual enabled a series of capital courts to be prepared.'

Wilts and Glos Standard

08/08/89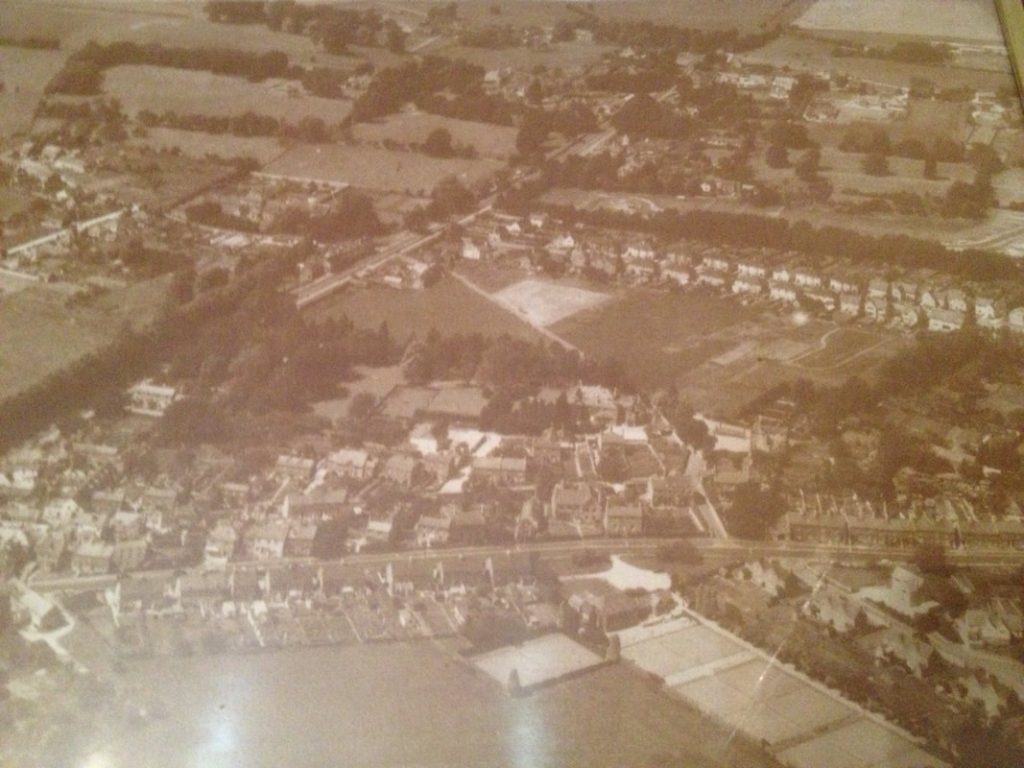 Establishment of Cirencester Lawn Tennis (Hard courts) Club-Stratton Location
Nov 1925
Decision to put 3 hard courts in field, adjoining the Rd leading from Cheltenham Rd to Stratton Mill on land donated by Chester-Master for use as member's tennis club. If subscription funds sufficient then plan to put in 4th court.
Chelt Chronicle 07/11/25
Dec 1925
Work commenced for hard courts Cheltenham Rd
Chelt Chronicle

19/12/25

1926
Club opened
Feb 1927
Harry simms, aged 39, a  foreman contracted to install additional hard courts, dies of heart problems, whilst lodging in Stratton. He had been working on courts for a month and went home to Croydon at weekends.
Gloucester Citizen

05/02/27

Oct 1927
Third open tournament. Heavy rain delayed mens singles final and players 'mutually agreed to abandon game with honours even'
Gloucs Echo

03/10/27

June 1928
American handicapped ladies doubles with 26 pairs.
Gloucs Echo

28/06/28

Aug 1928
American tournament with 40 Mixed doubles on bank holiday Monday
Chelt chronicle

11/08/28

May 1929
Open tournament 'favoured with gloriously fine weather'
Glouc Echo

24/05/29

Aug 1929
American tournament with 32 Mixed doubles on bank holiday Monday.
Chelt chronicle

10/08/29

Aug 1929
Juvenile American tournament. Singles – 12 boy players and 9 girls and 14 mixed couples.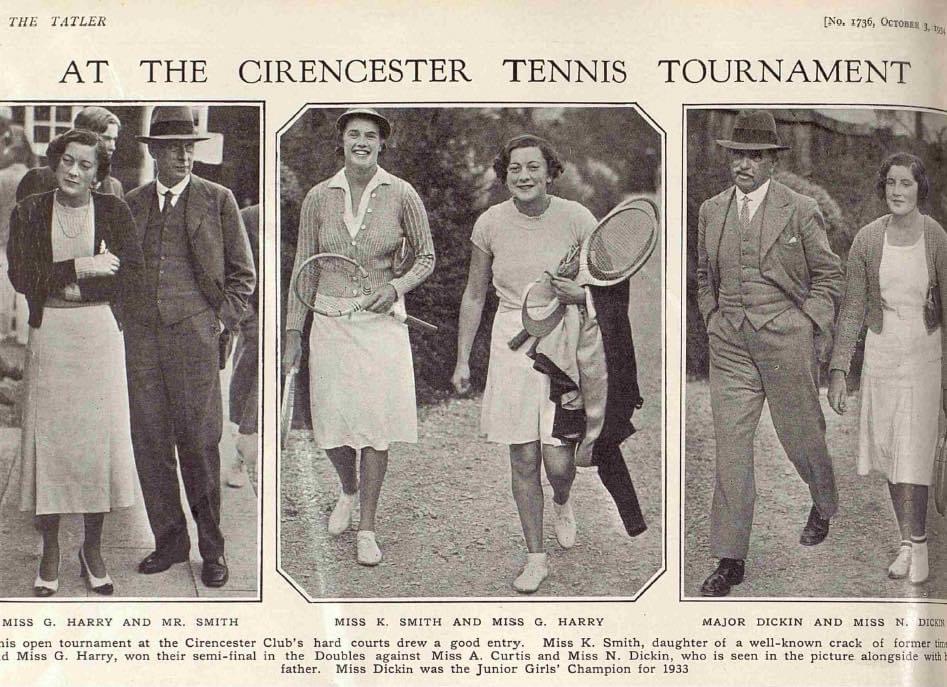 There is a void of information about the club from the 1930's through to the 1960's.
1970's
By the 1970's the site has a squash court in a wooden building and 6 hard tennis courts. Millman and Peter Ramsay in charge and it was run as a members club.

Ramsay sold it to a friend from London-Wallace Grace who in turn sold it to Peter Breton who had it for 4-5 years. George Hands ran it for Breton.

The club briefly exchanged hands again to a Kevin Langs and then to a young couple (the Daniels).

Agreement in place with Stratton House hotel where staff and residents could access the courts
Green shield stamps sponsored the club for junior coaching and international events.
1982
The Daniels sold the club to Peter Beamish. Ramsay tried to rescue it.
1982-1987
Beamish built a new clubhouse on one of the tennis courts. This had 4 squash courts, ladies showers, a bar and a viewing gallery. He also built a larger car park on one of the courts, so only 4 tennis courts remained. He then built a swimming pool on one of these and it became more of a 'country club'.

Floodlights were put on the 3 courts but one was used for football so only 2 left for tennis.

Membership was for both tennis and squash, the latter of which was more popular in the Winter.

Coach was Neale Reynolds.

1984
Due to the diminishing facilities for tennis a breakaway group left and set up 'South Cotswold Tennis Club' using St Michael's courts. Penny Allberry and Dudley Georgeson were an active part of this group.
1988
Beamish sold the site to Redrow to build a housing development. Redrow offered the club £20k to find somewhere to relocate to and several members worked hard in finding new locations but failed to get lottery funding.

Tennis club members objected to the sale and all very acrimonious. The site is now a cul de sac of modern detached homes in Phygtell Rd.

CTC members managed to keep playing (including matches) by hiring the Agricultural college courts. Both the Ladies and Mens were in the premiership so couldn't join the breakaway group SCTC as they would lose their position. Some joined SCTC to play socially.
Cirencester Park (current) location
1990
John Hardyment (JH), an active member of CTC approached landowners Lord  Apsley ( Bathurst estate) and Wills Chester Master in search of  land to purchase to build a tennis club on the edges of the town. Negotiations with Lord Apsley started October 1990. Lord Apsley was keen on a Sports club combining the cricket club (already present), croquet club, hockey and tennis so that the pavilion could be brought back to a good condition. The cricket club had played in Bathurst estate for 150 years.

CTC had 35 members.

May 1991
Sewell, Mullins and Logie instructed to draw up draft lease. JH negotiated annual rent of £250 per court and 28- year lease.
Staurt Waller (SW)- (councillor) Chair of South Cotswold club wrote to CTC Committee meeting stating they were not in support of JH  proposals to merge clubs in new location.  SCC not happy with location as too isolated and access via a 'narrow unlit road'. Second issue they had was the finances of lease with Lord Apsley as they objected to the annual lease payment (market led).
June 1991
On behalf of CTC, active member Nick Deacon, architect with Eric Cole and partners (Swindon) worked closely with JH and submitted application  for planning to CDC  for 6 courts with hard standing for parking in Bathurst Estate.
Throughout 1991 and 1992 JH worked tirelessly fundraising for the new club. Projected investment £49k inc vat. Members could raise £5k

He secured:-

Foundation for Sports and Arts £20,000

Sports Council £5,000

Cotswold District Council £1,000

Ciren sports Association £720

Gloucestershire playing fields £500

Ciren town council £125

In addition to loans:-

Sports council  £10,000 (required 10 guarantors)

Gloucs Playing fields £500

Feb 1992
Lease and grants/loans secured by JH.
 Sept 1992
30th- SCTC AGM held at Nelson inn-members agreed to merge with CTC in new location on proviso that financial and legal matters should be resolved before final decision.
Oct 1992
21st-Joint special meeting between SCTC and CTC at Stratton House Hotel. Merger formally approved. Stuart Waller (SCTC Chair) appointed as new Chair and new club to take SCTC name. Agreed life membership at £600 to support fundraising.
Feb 1993
Work started on 8th Feb-Courtstalls were appointed contractor after tendering process.
May 1993
New courts available for play-first Wed club night 19th May. Shared cricket pavilion with cricket and hockey club.
Club had 3 women's teams, 4 men's and girls and boys teams

Constitution agreed 6th May 1993.

Sept 1993
19th Sept Official opening organised by Penny Allberry . Lord Apsley made Vice President.

Concerns that Dress code was being abused as should be mainly whites.

Penny and Dudley were coaches.

 137 members inc 46 juniors
Oct 1993
Sunday club morning introduced 10am -12pm
Oct 1993
Submitted planning for floodlights  for 3 courts -turned down
 June 1994
Submitted planning for clubhouse in addition to  floodlights on front 3 courts with planting of 3 stands of trees and more support stanchions to reduce light spillage. Clubhouse to be located on grass area to west of courts.
July 1994
Permission for clubhouse refused as not 'architecturally acceptable'.
 Aug 1994
Foodlight permission granted with conditions including operating times and landscaping. JH starts further fundraising to cover cost of floodlights (circa £20k).
1994
Newsletter entry re dress code-'items considered not suitable and which have been seen on court include jeans, dungarees ,football shirts. Leggings and brightly coloured or patterned shirts'!!
Nov 1994
AGM-proposal to change name from SC tennis club to CTC  was ratified.

New Chair Dudley Georgeson.

1995
Membership 220. Team selection committee established.
Aug 1995
After several obstructions from CDC, planning re clubhouse style and material permission for pavilion granted (cost circa £10k) and fundraising continued for floodlights.
Lord Apsley delayed landlords permission to pavilion as he wasn't happy about floodlights.
Feb 1996
Pavilion construction started. Supplied by Tewkesbury Garden products who initially installed the wrong size. Agreed to replace with correct size.
Ongoing Issue with relations with cricket club re access to loo as despite having keys for a new lock installed by CTC the inside lock often prevented access.
April 1996
Received £19k from Lottery sports fund and £2k from CDC to fund floodlights.  Ongoing battle with Estate re light permission and CTC had to involve trustees using a clause in lease that prevented unreasonable blocking of club development. Sept 1996 strong letter from Lord Apsley.
June 1996
Club asked for minor amendment for 3 small stands of trees in initial application to more immediate planting around courts (south and partial sw and eastern boundaries) to provide wind shield and screen from public . Council rejected it as a minor amendment and requested full application.
Oct 1996
Edward Allsop from Bathurst Estate confirmed he was instructed and empowered by the Trustees to approve the specification.
Floodlights contracted by Floodlighting Ltd Oct 1996 and work carried out Jan 1997
Life membership was awarded to Nick Deacon and John Hardyment for their hard work in building the club
 Dec 1996
First Delta tournament-7th Dec
Jan 1997
Floodlights installed by Floodlighting Ltd. Cost of £4 agreed for 1.5 hours.

Clubhouse completed and team captains and committee given keys. Extra keys available to members at cost of £5

 June 1997
8th -Full opening ceremony combined with Penn open day and BBQ. Organised by Penny and Dudley. Lottery sports fund plaque provided.
Shoe tags introduced.

Singles Board ladder introduced.

Winter membership introduced.

1998
Water installed in clubhouse

Applied for floodlighting for 4th court-refused.

1999
Portaloo trial started. Seen as a great success!
2000
Patio laid in front of clubhouse.
Nov 2001
At AGM 14th Nov Dudley made Life President.

New Chair Adrian Potter.

Mar 2001
Foot and Mouth disease forced closure of club on 21st March. Club night held at Kingshill school until dusk (no lights). Coaching and team practices at St Michaels Park. Re opened 20th May after renegotiations with Bathurst Estate.
March 2001
Website set up. 350 members incl 140 juniors. Adrian Lees made honorary life member.
2003
Honours Board installed in clubhouse. Membership 305
2004
In the Winter Wed club nights became intra-club matches on front 3 floodlit courts. Teams of 3 pairs-strong/intermed/weak. Each pair playing all 3 pairs of other team. Limited evenings to 12 players so moved it to Mondays and carried on with club night on wed. Sun mornings continued.
2006
Extra court with floodlights (ND court) added. Initial opposition from Lord Aplsey but he supported. Interest free loan of £25k from LTA. Huge difference to matches capacity
2007
 Head Coach Rob Negus
2008
7th court named after Nick Deacon who passed away in Oct 2008.
Nov 2008
New Chair Julian Smith
2009
Revision of membership structure to support long term financial security of club.
Jan 2010
Lord and Lady Apsley accepted offer of Honorary Membership
Nov 2010
New Chair Paul Harris
2011
Head Coach Adam Swan-ADS Tennis

Awarded Clubmark

2012
Club awarded Gloucestershire LTA 'Club of the year'

Website relaunched.

2015
Negotiations with Bathurst Estate re lease renewal.

Nov AGM New Chair Adrian Potter.

Singles league set up.

Courts bookings went digital.

April 2017
Lease renewed including permission for:-

-eighth court

-floodlights on back courts

-Larger clubhouse including toilet

-clay surface

Aug 2017
Acting Chair Rachel Snowball
Nov 2017
Front courts resurfaced with Clayrite artificial clay by Fosse contracts-cost £59k plus VAT

Awarded Gloucestershire LTA Club of the year 2017

New Chair Rachel Snowball

April 2018
Judy Murray runs a tennis clinic at the club due to generous auction bid from member Martin Leay. Day raised an additional £2372 for UNICEF.
Oct 2018
LED Floodlights installed on back courts by Luminance Pro. Cost £42k plus VAT with £5k LTA grant and £25k LTA interest free loan.
Jan 2019
Membership sub committee set up to review membership categories and fees etc. Key changes agreed included:-

-New young persons category 20-30

-Pro rata rate for first year

-Late payment fees

Sept 2019
Installation of the toilet!
Nov 2019
AGM-constitution updated to accurately reflect Community Amateur Sports Club (CASC) status and bring it up to date with LTA guidelines, including ensuring committee responsible for setting fees.
March 2020
Coronavirus lockdown forces temporary closure of club:-

23rd March 2020 to 13th May 2020

5th Nov 2020 to 2nd Dec 2020

4th Jan 2021 to 29th March 2021

May 2020
Cirencester College, owners of access road upto caravan park, relocated access road despite objections from the club. Ongoing issues with blind bends, congestion and unrealistic speed limit.
Sept 2020
New LED lights on front courts to replace old halide ones by Luminance Pro-cost £25k plus VAT.

Head Coach John Mellowes-Phoenix Tennis

March 2021
Bathurst Estate tighten up security around Park including the introduction of electric gates at vehicle entry points and plans for pass-holder scheme. Planned introduction of electric gate on access road just beyond caravan park.
July 2021
Numerous problems with new access lane as often congested at busy periods. Currently appealing to planning authorities and college to urgently address issues. Additionally negotiating with Bathurst estate to delay planned operation of electric gate until access improves.
Key Sources:
British Newspaper Archives-archive limited from 1950's
Paper records courtesy of John Hardyment
Contributions -David Soutter, Christopher Hall, Jane Muncer.
Meeting  (01/12/2019)-John Hardyment, Martin Groombridge, Peter Stone, Ken Shortridge, Jane Muncer, Steve Lamble, Adrian Potter (notes).